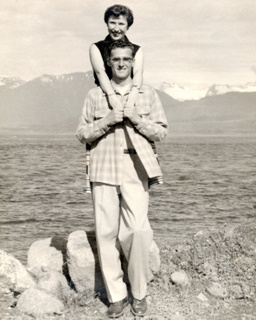 Arlene Otness remembers working in the old Petersburg Hospital back in the days when it was an aging two story house settling around a stump that raised the floorboards of the x-ray room. In this compelling interview with her long-time friend Roxy Lee, Arlene tells stories that are poignant, funny and inspiring.
Arlene talks about shrimp fisherman Ross Greinierwho lived at the hospital in the winter as a patient, and how he would knit baby sweaters for all the newborns with his huge, rough hands. She remembers caring for the first polio victim in Petersburg who was quarantined in the attic. All she could do for this sick child was wrap him in hot wool strips that she heated in a mop bucket over a hotplate.
It staggers my mind to think of how few staff worked at the very basic facilities, and how extremely hard they worked. At the time, few people were medivaced south, and Petersburg was the central medical facility for Kake as well as many logging camps. As Arlene says, they delivered "Lots and lots of babies. This was before birth control you know.."
There were also lots of accidents on boats and in the woods. Arlene describes what it was like to juggle a mother in labor with seriously injured people coming in the door at the same time when she was the only nurse on duty. She was only in her early twenties when she started her nursing career.
She tells about how the town rallied to build a new facility, which has since been replaced by thepresent Medical Center. Hearing these stories makes me grateful for the hospital and staff we have now, and I am filled with respect for the heroism displayed by the nurses and doctors that came before.
Arlene speaks with quiet grace and modesty about the job she loved, and every time I listen to it, I am inspired by her example, and riveted by the stories that she tells